HSB to participate at ID4Africa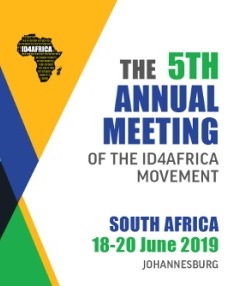 On the 18th – 20th of June 2019 HSB identification will again participate in the major event about identity, ID4Africa, which is hosted in Johannesburg, South-Africa. Visit HSB to see and discuss solutions to create and verify unique identities, which include (mobile) registration units, biometric matching and de-duplication, identity management and authentication services. These products can benefit to markets such as: social and financial inclusion, elections, border control and civil / national ID programs (in rural and remote locations).
ID4Africa 2019 has the overall theme "Identity Ecosystems for Service Delivery" with the purpose to define context for the adoption and deployment of responsible identity systems with special attention to the use of identity in support of service delivery to enhance inclusion and access by all sectors of society.
ID4Africa is an ID-4-All movement that accompanies African nations on their journey to develop robust and responsible ID ecosystems around digital identity.
You are welcome to visit HSB's booth C11. Contact us at info@hsb.nl
More information about our solutions can be found at: https://www.hsb.nl/our-solutions/ .
For the full ID4Africa 2019 exhibition and conference program please visit: http://www.id4africa.com/2019-welcome/