National Health ID
---
The National Healthcare Insurance Agency in Ghana has a total membership of more than 8 million people. The current ID card is replaced by a biometric ID smart card. The goal of this project is to improve transparancy of the claim process and to reduce costs. This can be assured when only eligible clients will get their treatment and identity fraud is reduced.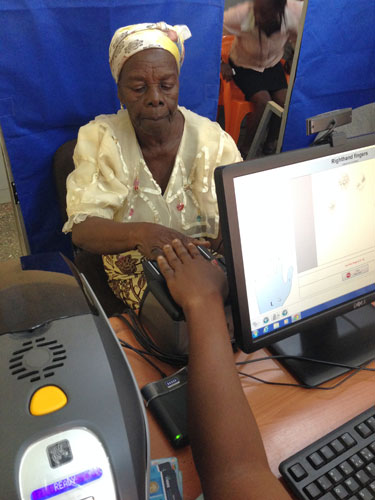 A biometric smart card solution has been rolled out to improve identity checks and the transparency of the claim process. Every member of the NHIA is registered with fingerprints in addition to biographic information in a online web-based system. The health card will be issued only after an online identification check, based on fingerprints, in a nationwide central database (AFIS). If no duplicate is found, a contactless smart card is printed and issued to the member.
About 500 mobile registration stations and 450 desk-based registration stations are operational. Each station includes a workstation, smart card printer, card reader, fingerprint scanner, webcam and software to capture the biometric and biographic information and to print the card.
The second process is the verification at the health provider. Thousands of (Android) tablets with fingerprint units are deployed to enable 1-to-1 verifications of the identity of the members. The health provider can verify the member with fingerprints. The live fingerprints are matched against the secured stored fingerprint in the smart card. If the verification is successful, a claim check code (CCC) is generated. Only with this correct CCC the doctor can reimburse his claim at the central claim processing center.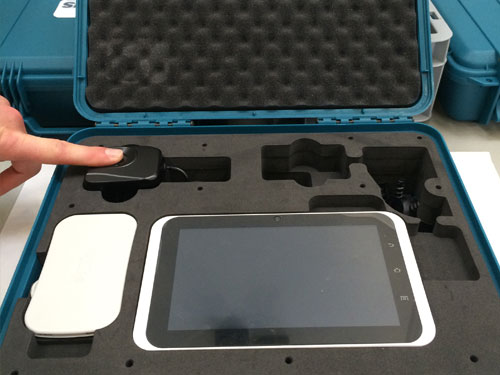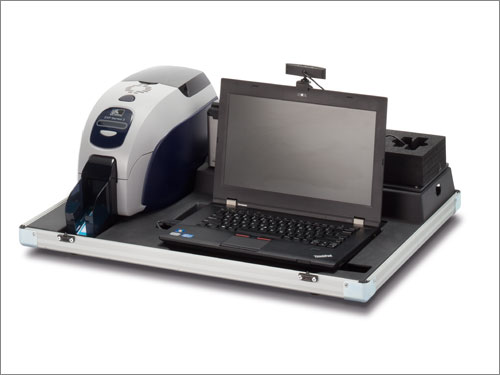 Might be of interest:
Tablet-ID™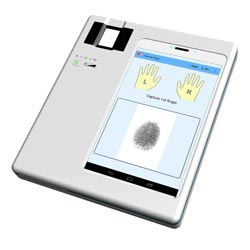 Mobile Biometric Registration using the Tablet-ID. Read More…
The Tablet-ID ™ is an Android based device that includes the functionality of a high quality fingerprint scanner and smart card reader. A huge battery capacity is integrated into this solution to ensure a battery life up to 13 hours. TABLET ID The software application on the Tablet-ID™ can be customized according to the needs of the customer.
BioRegistrator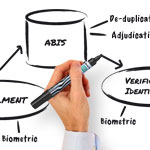 BioRegistrator® is the Proven Platform for Registration of Digital Identities. Read More…
BioRegistrator® is the proven platform for registration of digital identities. The product can be used as enrolment tool (i.e. capturing of biometric characteristics and personal information), for identification and verification purposes. BioRegistrator® makes deployment of biometric technology accessible for all kinds of organisations.
Use of this standard product saves customers development costs, reduces the time to deploy biometric technologies and creates an independent platform for biometric suppliers.
Civil Servants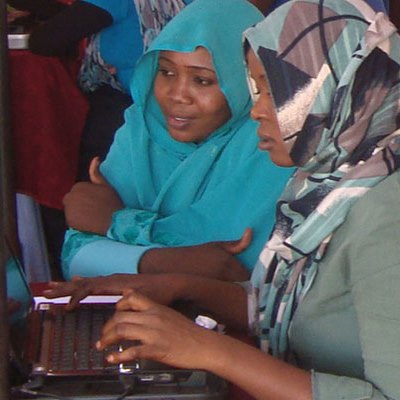 Avoiding Ghost Workers and Double Dippers through Biometrics. Read More…
HSB identification supplied biometric solutions to register and duplicate all civil servants of several African countries. Goal of these projects is to prevent any ID-fraud. Before the introduction of the system it was known that multiple fake identities were receiving monthly salaries. With help of this solution double registrations are filtered and only eligible civil servants will receive their fee.